Interview with co-founders
Maria Manuylenko-Riabchun and Olga Severina
Our point is to share Ukranian culture with the world and support modern artists.
USA
@art.territory.ua
FB art.territory.ukraine
www.art-territory.com
---

INTERVIEW
Tell us how you met and when you decided to start the project together? Did you have experience working together before Art-Territory?
Olga: Although we are both from Kharkiv – the second largest city in Ukraine, Masha and I did not know each other prior to our professional relationship.
Our collaboration began through The 4th Block – an international poster exhibition, held every three years in our beloved Kharkiv. The exhibition's aim is to bring together the latest trends in international poster design that have ecological objectives or connotations. The name of the exhibit – The 4th Block comes from reactor number 4, which was destroyed in the Chornobyl nuclear disaster.
Before moving to LA, I served as The 4th Block's exhibition curator and a selection committee member. Over the years I stayed in touch with Oleg Veklenko – The 4th Block's founder and president, who was also one of my favorite professors and a lifelong mentor.
I always wanted to continue my collaborations with The 4th Block, because working with its amazing team was one of the most memorable and fulfilling experiences of my career. This is why, when I founded my PosterTerritory initiative where I launch socially conscious exhibitions and events, and publish articles and books on contemporary graphic arts, I started doing some of these projects together with The 4th Block.
That is how I met Masha who began working as an art manager of The 4th Block's Graphic Designers Association a few years after I left for the US. We quickly connected and became great friends and colleagues. We worked together on a variety of shows and exhibits that promoted graphic arts and examined their impact on the fabric of contemporary society.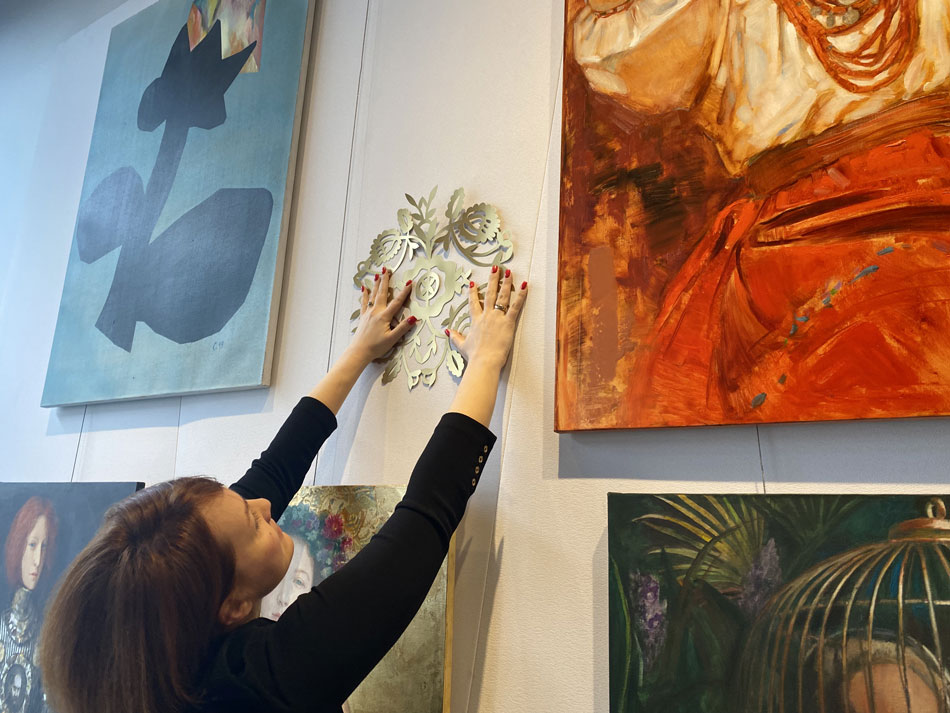 All of this changed at the dawn of February 24, 2022, when Russian forces started bombing peaceful Ukrainian cities and towns.
A few weeks before the invasion there was an eerie feeling in Ukraine that the war was looming, so The 4th Block Association started a poster call "Stand With Ukraine" where artists could express their support for our country. The posters started to pour in almost immediately and by the time the full-blown offensive began we had a large collection of posters by authors from all over the world that we took to the streets.
The team of The 4th Block – every one of us, even those who were still in Kharkiv, under constant bombardments – were uploading new pictures every day, sending them to print shops around the globe to be copied and used in the anti-war demonstrations that were happening everywhere. In 2022 we launched 20+ exhibitions that featured "Stand With Ukraine" poster art.
We've always believed in the power of cultural diplomacy. We've launched art exhibitions and design festivals, environmental projects, and social events to help make the world a better place. We've seen how much can be achieved using this soft power. Before the war, we thought the world had, indeed, reached The End of History, where warfare was dead and all could be resolved through diplomacy. How foolish of us.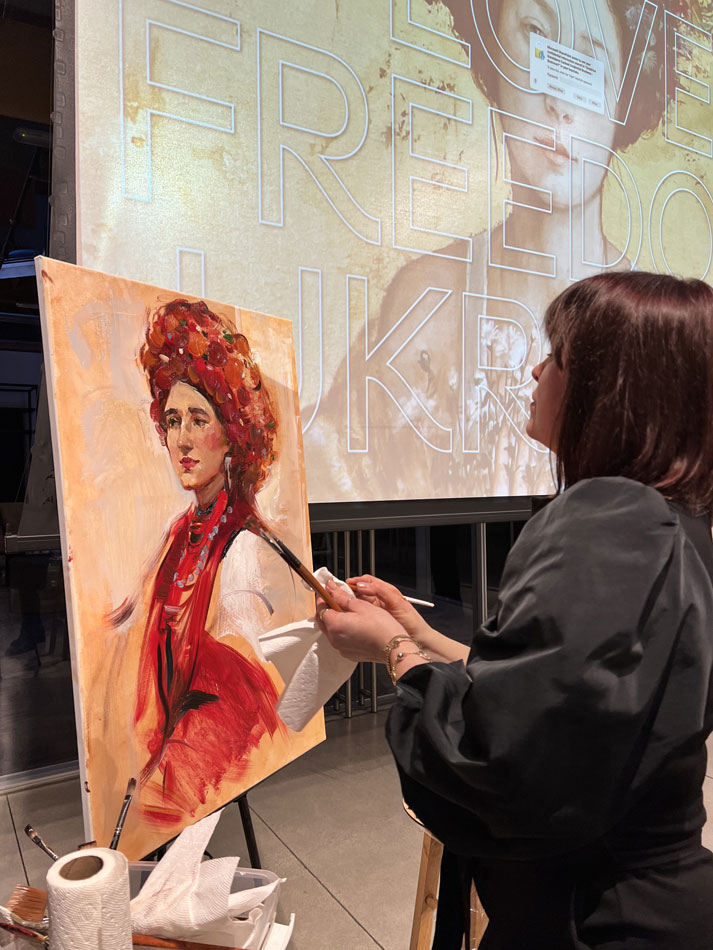 The war in Ukraine has shown us that, in fact, Diplomacy is dead and Death is very much alive! And yet, we still believe that our mission is not impossible! We must and will continue our struggle for a better tomorrow, but at the time of war, we needed to mold the power of beauty into a weapon. We knew how powerful this weapon could be. Beauty gives us hope, it inspires us, it reminds us of what we are fighting for. To wield it is to invest in our future because art is the path to a better tomorrow, while tanks are nothing but relics of the past!
This is why in the summer of 2022 Masha was evacuating from Kharkiv paintings by contemporary Ukrainian artists, right when the city was being continuously shelled. She wanted to save the beauty, but at the same time, she wanted the beauty to help save the people.
Masha launched an art auction in Denver, and it was a great success. All the proceeds from the auction went to support Ukrainian refugees and the Ukrainian army. This is what started Art-Territory, and now we launch art shows and auctions in Europe and the US with one goal in mind – to help end the suffering and to make the world better, and today a better world means only one thing – a world that is not at wor.
What goals have you set for yourself? What is the purpose of Art-Territory?
Olga: Art Territory's primary mission is to introduce Ukrainian art to the American audience. As Ukrainians, we want to give Ukrainian art a voice because we believe that beauty is louder than bombs.
We want to help our viewers see our country not as a victim but as a strong and talented nation. We are not pawns or sacrificial lambs and neither are we desperate outcasts looking for handouts. We are fighting for our freedom and our survival against a massive military machine that came to Ukraine, and thanks to the Ukrainians, this monster did not advance further into Europe.
One of our goals is to continue calling the world's attention to the atrocities of this war and to celebrate the beauty of our country and our people who continuously show remarkable bravery, selflessness, and compassion during a time of unimaginable peril. This is why we are always looking for nonprofits with which we can collaborate so that we can launch new charity exhibitions and art auctions in support of Ukraine, where we showcase and sell contemporary art created by some of the most prominent Ukrainian artists.
Historically, Ukrainian art was seen only as a subset of the Russian arts and this was the case for many years. It may sound horrible, but it was because of the war that hundreds of cultural initiatives took off around the world that promote the idea that Ukrainian culture is not the same as its Russian counterpart. People suddenly realized that Ukrainian identity survived, despite years of oppression and extermination, and was able to thrive against all odds. As an organization, Art Territory aims to further publicize Ukrainian art and culture and to help the beauty of art defy the ugliness of war! Since the war started thousands of creatures were forced to leave their homes, abandon everything familiar, and evacuate abroad seeking shelter and safety often without any means of support. To help the artist Art Territory launched a number of charity exhibitions and auctions intended to raise money in support of Ukraine and its artists for whom these funds are often the only source of income. We will continue supporting Ukrainian artists while the war rages on, but our long-term goals are to popularize Ukrainian art and to help the audience see its beauty, versatility, and complexity. We plan on collaborating with museums and art galleries in the US and Europe, where we can share Ukrainian art with the world.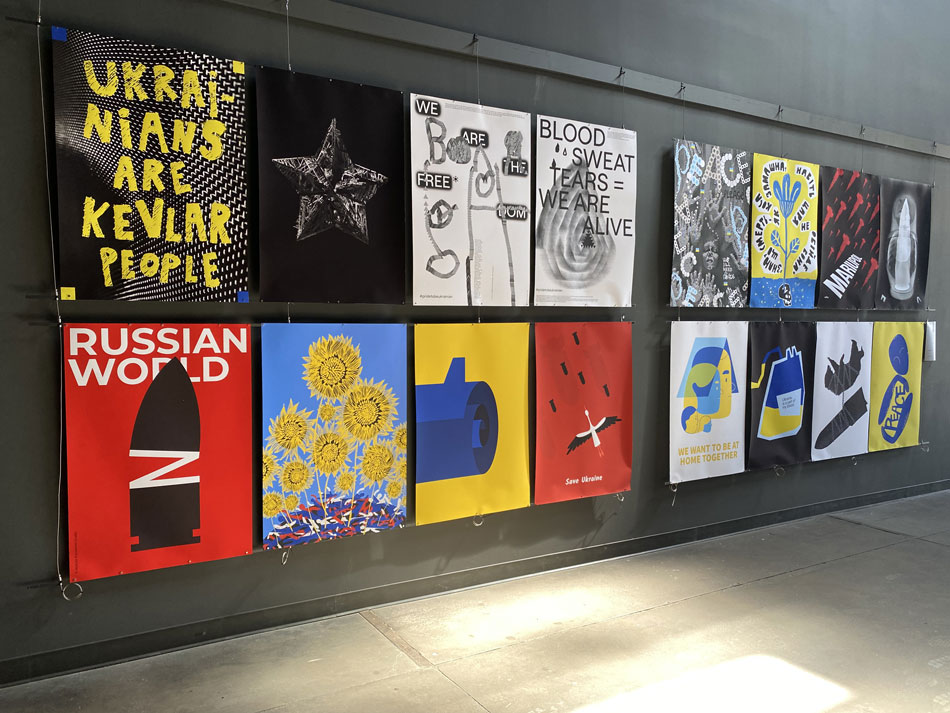 Thanks to art, your events raise pretty difficult topics. One of the projects is like this – tell us more about "Ukrainian anti-war posters". What was the reaction of the audience to the event? Were there any difficulties in promoting the theme of the war?
Olga: As I mentioned before, our Ukrainian anti-war posters are a part of the "Stand With Ukraine", poster campaign launched by the Graphic Designers Association The 4th Block in February of 2022. This is an open poster call and we are still receiving posters 14 months into the campaign. As of today "Stand With Ukraine" posters collection has 1500+ artworks from 56 countries that are from every corner of the globe. They demonstrate an amazing creative range but more importantly, they illustrate an unending wave of support for our country that is so critical during these trying times.
This continuous backing of our cause by the entire international design community is truly invaluable. It is crucial to know that our nation is not alone in this struggle for human rights, freedom, and peace.
We really wanted to share these great designs with the world so we took these posters to the streets bringing poster art back to its roots, as it was the streets where this genre was born and where it flourished as the original street art or as a form of creative resistance.
We had a number of poster events in cities across the US that were always successful, despite the very difficult topics that were often the subjects of the poster designs. I think the audience responds to the incredible designs but also, and maybe even more so to the fact that many of these posters were created by Ukrainian designers, who made them "in the trenches" – while they were being bombed or when they were trying to escape the horrors and the miseries of war. This is why there are so few doves as symbols of peace on "Stand With Ukraine" posters and so many harsh images of real pain, despair, and the ugliness of slaughter. Luckily, we did not have any major issues showcasing our posters – people here all showed their support and all wanted to help.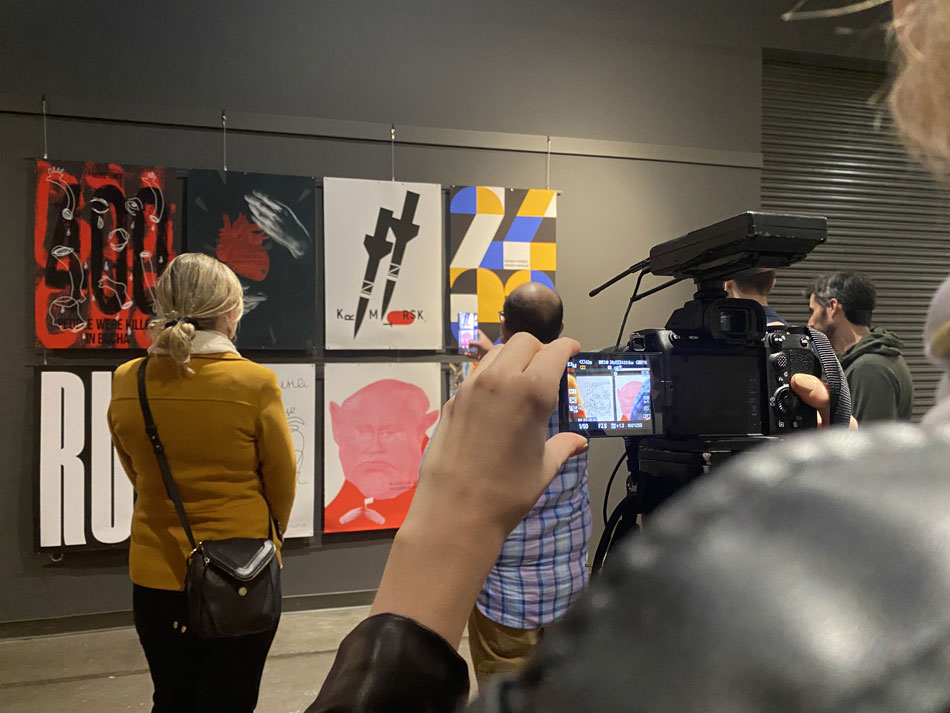 The "Path of Resistance" exhibition was more warmly received, as seen in the photos. What activities did you conduct as part of this event?
Masha: I'm happy to say that the American audience was extremely warm and welcoming to the "Path of Resistance" exhibit. In this show we did not want to display artworks that depict Ukraine devastated by war – we really wanted to accentuate its natural beauty and the beauty of its people, to highlight their inner strength, their continuous support of one another, their never-ending willingness to resist, and their ability to see the wonders of the world even in the darkest of hours. "Path of Resistance" art show featured pieces by contemporary artists who work in different styles and use a variety of media. The exhibit showcased the creative vision and artistic skill of our artists and turned out to be a great success.
As part of the "Path of Resistance" exhibit we had a live performance where one of our artists – Irina Kalyuzhnaya painted live models dressed in traditional Ukrainian costumes and it was all done in real time. These authentic Ukrainian costumes are a part of her personal collection that Irina Kalyuzhnaya brought with her to America, specifically for this event. This was a great and unique way to introduce American viewers to Ukrainian culture.
Also during the event, we had a movie screening that featured the artists whose works were presented at the exhibit. This short film was made in the first months of the war for our first charity exhibition in Denver, Colorado. In this film, the artists share their stories about their lives before the war and then describe how each of their lives has changed now that the war is raging.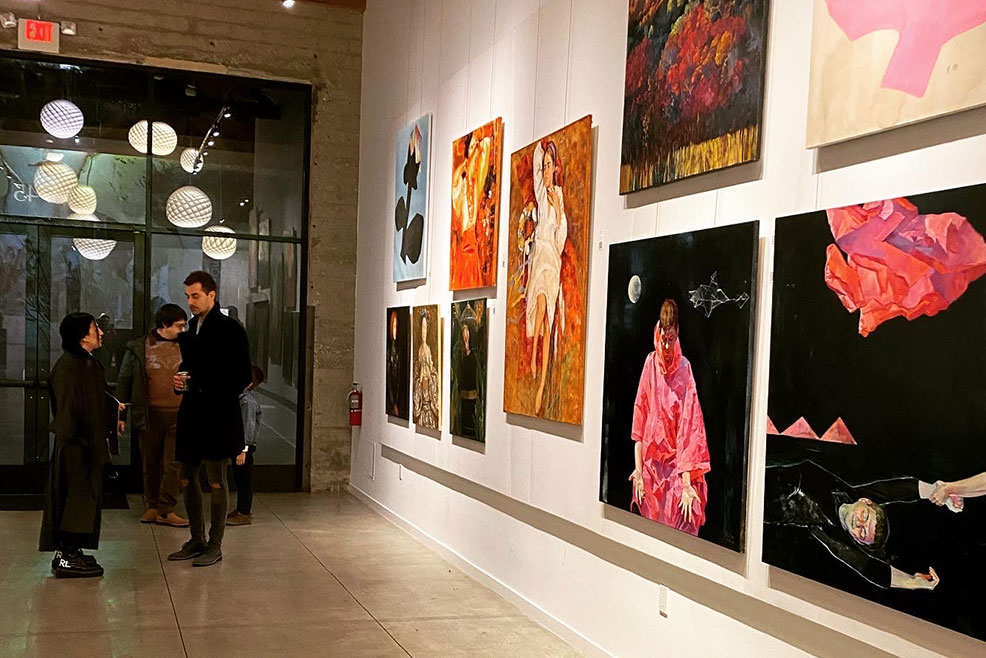 Olga: Our "Path of Resistance" exhibit was, indeed, very well received by the audience, but it also had a lot of support from our partners and friends. This show is just one of many events that we launched as part of our Love. Freedom. Ukraine. initiative that we produce together with Stand With Ukraine Foundation, LA, and Sunflower Network. And, of course, this exhibit would not have been possible without our great friends at the Helms Bakery District.
"Path of Resistance" was not the only event that featured a live performance by Iryna Kalyuzhna, but every time she did it – it was truly amazing. There is something magical about seeing art being born right in front of your eyes. During the exhibit, we also showcased Ukrainian poster art by AZA NIZI MAZA studio and a Fragile Brutalism project by Seria. Those pieces deal with very difficult issues, but it was important for us to exhibit them to make sure the people do not get used to the war as something mundane. It sometimes seems as if war is our new normal and we wanted to make sure everyone remembers that there is nothing normal about the war!
In your opinion, interest in Ukrainian culture has subsided after more than a year of war? Did the inhabitants of America discover the previously unfamiliar world of modern Ukrainian art and culture?
Masha: I do not believe that the interest in Ukrainian culture is tapering off. Actually, I see the opposite trend – our team at Art Territory is doing more events and our geography is expanding. We are launching our latest expo in Atlanta next week and we have more shows scheduled to open in other cities later in the year. I think that the Americans only just began to discover Ukrainian culture. Ukrainian art is incredibly rich and multifaceted and a single year is not enough to explore it fully. I truly feel like this is only the beginning of our journey and that Ukrainian contemporary art will be seen on many platforms and in many venues around the world. It will be happening more and more because the beauty of Ukrainian art deserves to be noticed, to be admired, and to be purchased.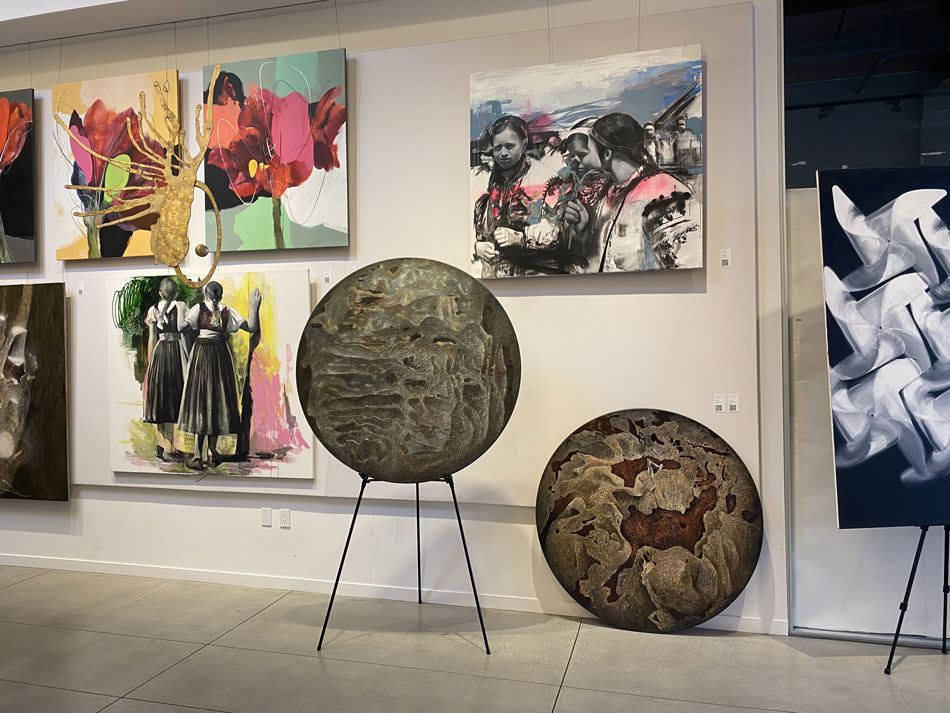 What advice would you give to the organizers and the artists who promote Ukrainian art worldwide?
Masha: The most important advice I can give is: Do not stop! People in the US are getting tired of the war, which is understandable, but it is paramount to continue reminding them that the fighting never stops. Our families, our children are being killed every day. Ukrainian art is a great tool that can keep people's interest in Ukraine without overwhelming them with the daily horrors of this gruesome and unjust conflict.
Another piece of advice when doing art shows is to display works of the highest quality. This is key to keeping the viewers interested in Ukrainian art, which has many amazingly talented contemporary artists whose works rival pieces by any modern artist!
One other thing I might suggest is to try and focus on truly contemporary artworks. What I've noticed in 2022 is that some of the shows are organized by emigrants who left Ukraine years or even decades ago. These people often stay "cocooned" in the time capsule of what Ukrainian art used to be when they were still living in Ukraine. Although they are all doing a wonderful thing – helping our country, but the art itself is not always representative of a new Ukraine. It would be great if more people would show more art that is created "in the moment", to feel the latest creative impulses that pump through the veins of Ukrane's most contemporary life.