My works are a textile painting created from natural fibers on a wool canvas. In fact, I am engaged in painting with the help of textiles because instead of paints, I work with living organic material, which I transform into another substance with my imagination. My works are a reflection of my own feelings and emotions.
Kyiv, Ukraine
@olesia_tkachenko_art | FB OlesiaTkachenkoArt
@yaskravo.studio
---

INTERVIEW
You have a very interesting art background. From 2006 to 2015, you worked as a teacher at the University of Technology and Design, and at the same time, in 2010, you started studying art textiles. Was it related to your career or was it a desire for personal development?
In fact, I did not start my studies in 2010.))
By that time, I had graduated from the Lviv Academy of Arts (Department of Textiles, specialty "Batik"), but already when I was a teacher, I decided to enroll in a master's degree and write a research paper on the topic "The Art of the Second Half Felt 20th century in Ukraine and the world" under the leadership of associate professor G. D. Kusko, I am very grateful to her for her help.

It was in the process of deep immersion in the topic that I became interested in experiments in wool felting techniques. This became useful both for teaching activities and for the development of one's own creativity. I learned about the best artists in the field of textiles and realized that artistic textiles are not limited to decorative and applied art, but can look like contemporary art – very powerful and modern. This is how my journey of finding my style in textile painting began.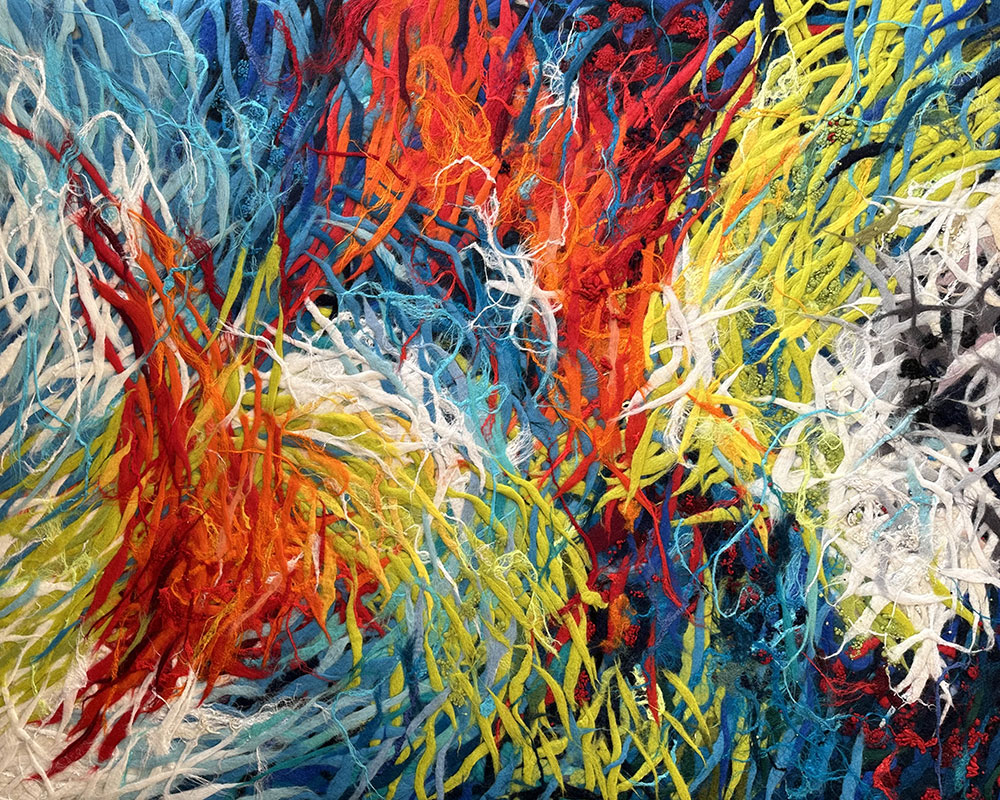 It is interesting that the first textile works began to appear only in 2015. Can we say that it was an experiment to combine painting with a more technical direction?
After graduating from the academy, I experimented a lot with felting techniques, studied different areas, and worked with clothing designers. In 2015, I received an invitation to participate in the textile triennial. My first major work "Stolen Europe" is made in a graphic style, but with the use of textile fibers. It was the first experience of working with wool, which received positive feedback from colleagues, and it encouraged me to continue textile creativity. Therefore, we can say that it was not just an experiment, but a step in my activity that opened up new opportunities for me in working with textiles.

My works can be considered a kind of textile painting, created on a wool canvas using natural fibers. Instead of paints, I use natural organic material, which gives me unlimited freedom.
In textile materials I see the potential to create modern works of art and at the same time I use them to emphasize the naturalness of my creations.
Thus, textiles became the first element of my creativity, which unexpectedly reveals itself in the work and helps to find non-standard solutions.)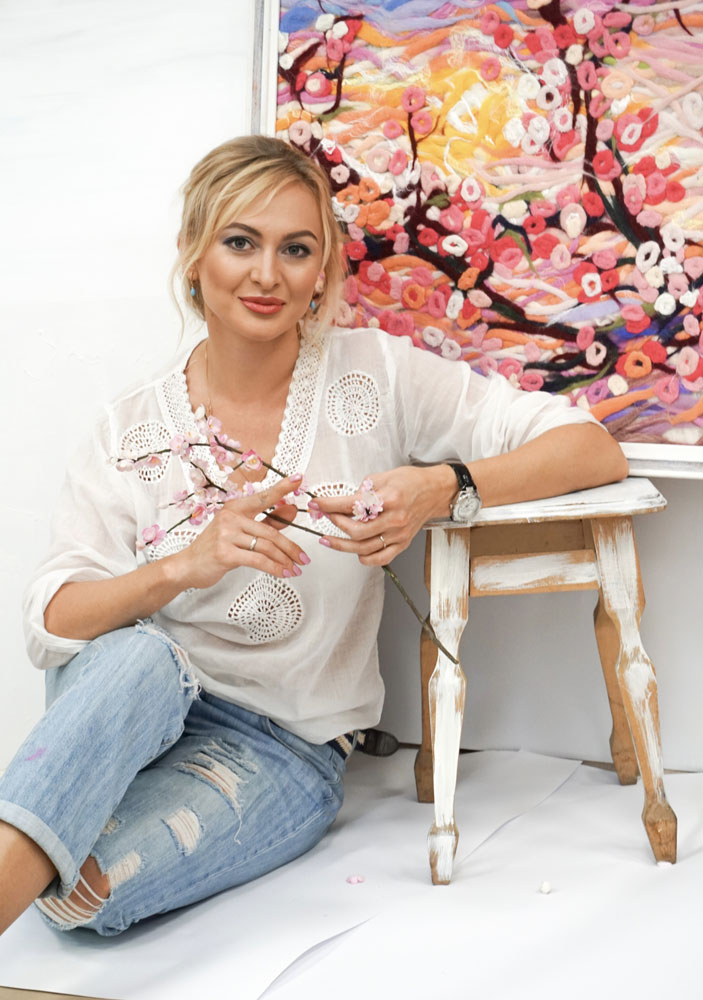 You currently have a very distinctive style. Olesia, how did you come to abstraction and what inspires you?
My path to abstraction began with realistic art. However, I realized that painting still lifes and landscapes do not always allow me to fully express my feelings and emotions. I wanted to create something unique and special, so I began to break the patterns of realism to find my own style. Abstract art gave me the opportunity to freely express thoughts and feelings, improvise, and embody new images and meanings, and inspired me to create something unexpected. I use different materials and techniques to convey ideas and emotions through abstract compositions and colors. My works are a reflection of my life and artistic practices. I hope they will inspire viewers to explore their own identity and the world around them.

I am inspired by the beauty of everyday life, simple things like a morning cup of coffee, a walk, and meetings with close friends. I like to capture these moments in my paintings.

My sources of inspiration are also:
Art and culture: museums, galleries, theaters.
Music. I often listen to it when I work on paintings.
Communication with other creative people. The exchange of ideas and experiences helps to develop and implement new ideas. Traveling and getting to know exciting people and cultures.
One of your latest works in social networks is impressive in size! And if you showed the final footage of the installation to the buyer, it is very difficult to imagine how a work of this scale was created! Tell us about the process of creation, difficulties and secrets of patience.
Yes, it was a very interesting but also difficult project. First, it was necessary to find a large space to spread the canvas on the floor since my workshop was too small. I had to contact the man to get access to his industrial and production premises.
The next stage was worked in wet felting technology, which involves using a large amount of hot soapy water, and then thoroughly washing the panels under cold running water. However, the work was further complicated because I worked on it in the winter and had to rinse with cold running water outdoors in sub-zero temperatures. That was something!!!

Despite all the difficulties, I enjoyed working with such a large size. It was a challenge, but at the same time, it allowed me to express my ideas on a larger format and create a work that is impressive in its size.

Large formats give freedom in experimenting with textures and colors, which expands my possibilities, helps to show the full range of my creative individuality and allows me to transfer all energy and emotions to the canvas as much as possible.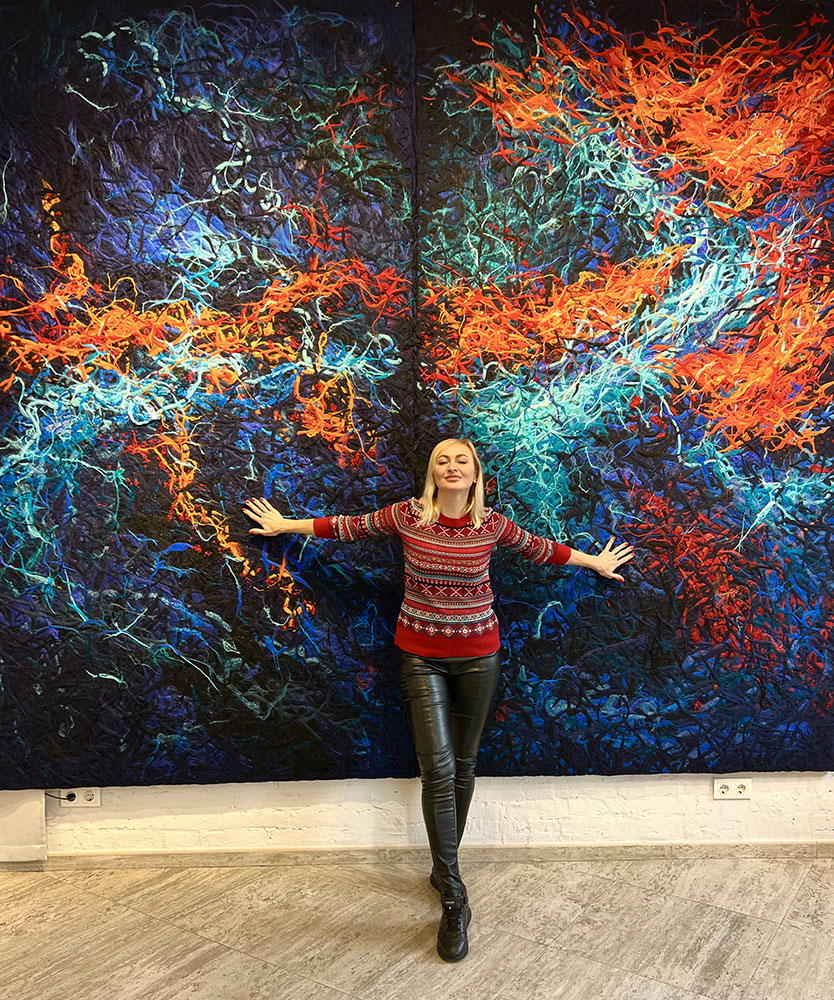 Returning to teaching, tell us about your art studio. You teach both adults and children, and what is more inspiring in your work?
My studio is a place that inspires creativity and creates an atmosphere that helps you focus and forget about everyday worries. Here, everyone can find everything they need to draw and reveal their potential – from quality materials and professional brushes to well-thought-out compositions for painting.

I, as an artist with many years of experience, and my colleagues are very happy to transfer our knowledge to the students of the studio, trying to find an individual approach to everyone, help them find their own creative style and develop drawing skills.
Yes, we teach both children and adults, and we are always happy to help you find new ideas and answer any questions. It doesn't matter what the age of the students is and their skill level, the "Yaskravo" studio is suitable for everyone who wants to create and develop their potential.
Teaching painting to children and adults gives me the opportunity to interact with interesting and talented people.

Each student is a unique individual with his own story that influences creativity. It expands my consciousness and allows for a deeper understanding of the human experience.
At the same time, you are an active participant of international exhibitions, triennials, competitions and have been among the laureates more than once. Tell me which of these events you remember the most and why?
Yes, I participated in more than 40 group exhibitions and the triennial. Participation in international exhibitions and competitions always helps me find new fans of my work, develop my style and get feedback from colleagues and experts. Generally, each event is remembered for its unique atmosphere and support from the audience and other participants. But I got the most significant impression from a recent personal exhibition. These are incredible feelings – to see the viewer's emotions, communicate with visitors and read reviews. Most of the works found their new owners. It is very inspiring for new ideas. I am happy that my creativity brings joy to people.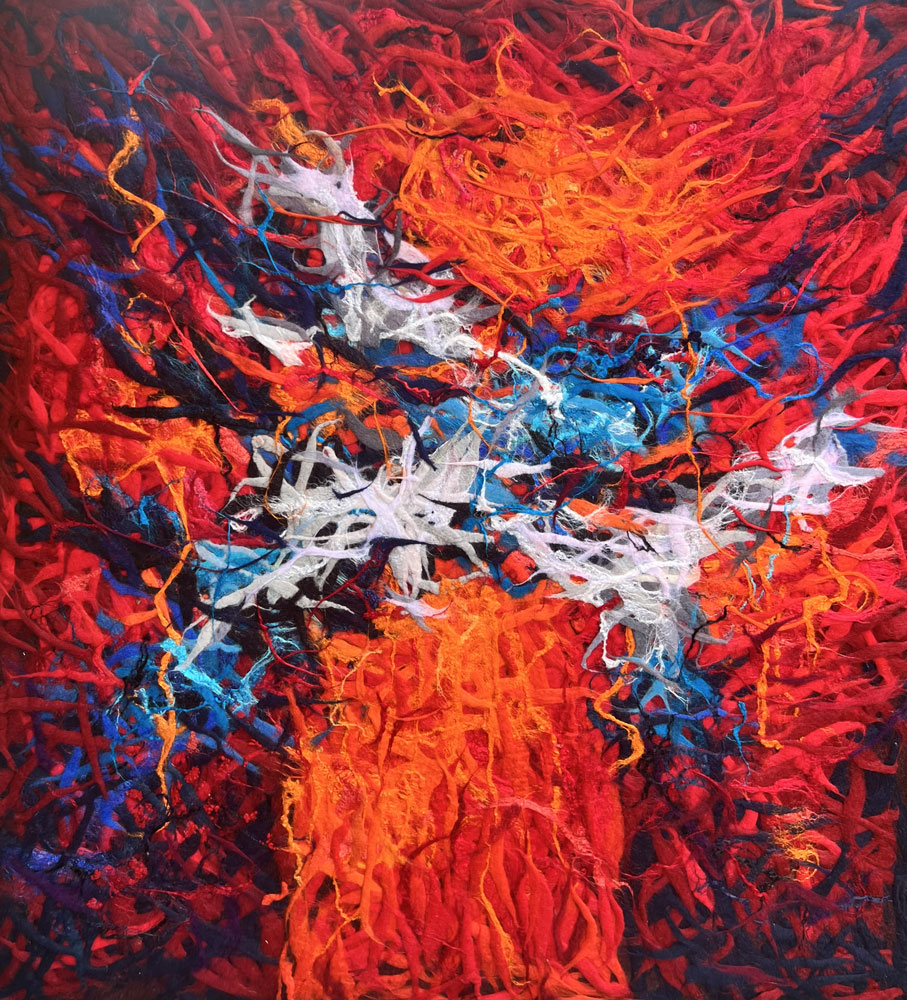 We ask the heroes of the interview to give some advice to young artists. It is interesting to hear your opinion as an artist and as a teacher.
Important advice for young artists: master the basics of drawing. Knowledge of composition, anatomy, perspective, light will allow you to create professional works.

Study the biographies and works of famous artists, visit museums, develop your eyes to find new information and learn new techniques.
It is also important to train regularly and allocate enough time for drawing.

Use your imagination and inspiration – there is no need to copy the real world exactly.
Never stop improving your skills and finding new things in art. Try new techniques and styles, develop your unique style and improve your creative abilities.

And most importantly, enjoy the creative process and don't forget your own uniqueness!