My work is the language of lines and color on canvas, conveying emotions, bringing light to the audience, and touching the soul. Art is my life.
Kyiv, Ukraine
nerozna.com
FB | TikTok | YouTube
---

INTERVIEW
Tell us about yourself. You can say yours started with the University of Technology and Design, Department of Drawing and Painting. And then you started teaching. How did your passion for teaching start
I am a Ukrainian artist from Kyiv. From early childhood, she began to feel attracted to beauty and art. I liked mixing paints, and my favorite pastime was looking at book illustrations. As a child, I clearly remember that I also want to see the bright world and fantasize when I grow up. Then there was an art school, where she studied the basics of drawing and, painting, sculpture, and only then a university with in-depth knowledge of art disciplines. After completing my studies, I was offered to stay and teach at the University, and that's how my teaching activity began in the following disciplines: History of art, painting, and drawing. Then I immersed myself in cultural studies and defended my candidate's thesis.

Art was always by my side at different times. No matter what, it saved me from everything and inspired me. I delved into myself and just created.
The most essential thing in life is to know what you want and why you do everything. Set goals and go for them, but don't get stuck because then it won't work.
You are a candidate of cultural studies, an art critic, an associate professor at the Department of Graphic Design of KNUTD, an artist, the founder of the ART&SHOCK art space, and a public figure. Which direction is the most important for you right now?
Studying artistic cells in many ways, immersing myself in Ukrainian identification, and globalization of Ukrainian culture, now I focus on my own art as an artist. Following the creative path, I came to myself. Many people get lost while walking. I definitely feel like a happy person because creating is magic. When painting a picture, you just get high from the process. It's relaxation for the soul. Daily emotional labor. Most of the canvases I have made are in mixed media, oil painting, and graphic techniques, and I am trying VR art.

Education is a vital component for an artist. When you are learning, you don't notice it, only later you realize that you are using knowledge, and in combination with your feelings, you can competently express yourself, your ideas and your thoughts on canvas.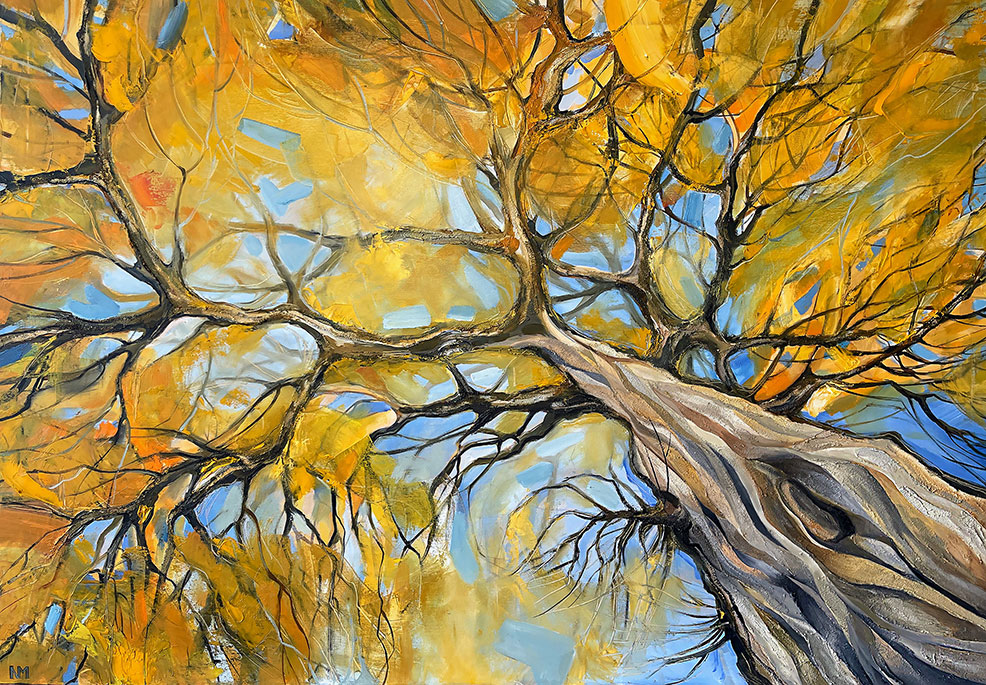 Tree of happiness, 90×130 cm
Can I find out more about the tasks of the ART&SHOCK art space? How has the direction of work changed since the full-scale invasion?
ART&SHOCK is my project, created before the start of the war, the task of which is the development of Ukrainian art (painting, VR) in Ukraine and beyond.

The day when Russia's large-scale aggression against Ukraine began partially disoriented me. I put all projects on hold for a while. Focusing on my own inner world, I began to paint canvases depicting only calmness and positivity, which was so lacking in everyday life. Because of the constant shelling and the alarming siren, it wasn't easy to psychologically get back together.

Thanks to my creative ideas, little by little, I began to focus on the beautiful with a much greater desire to consider various opportunities for development for myself at the moment and to look for positive aspects for the further development of Ukrainian art. The artwork called "New Day" is special, it was created at the beginning of 2023. The sunrise became my additional source of energy, a symbol of a new day before the expected victory in the war, new opportunities, and artistic perspectives.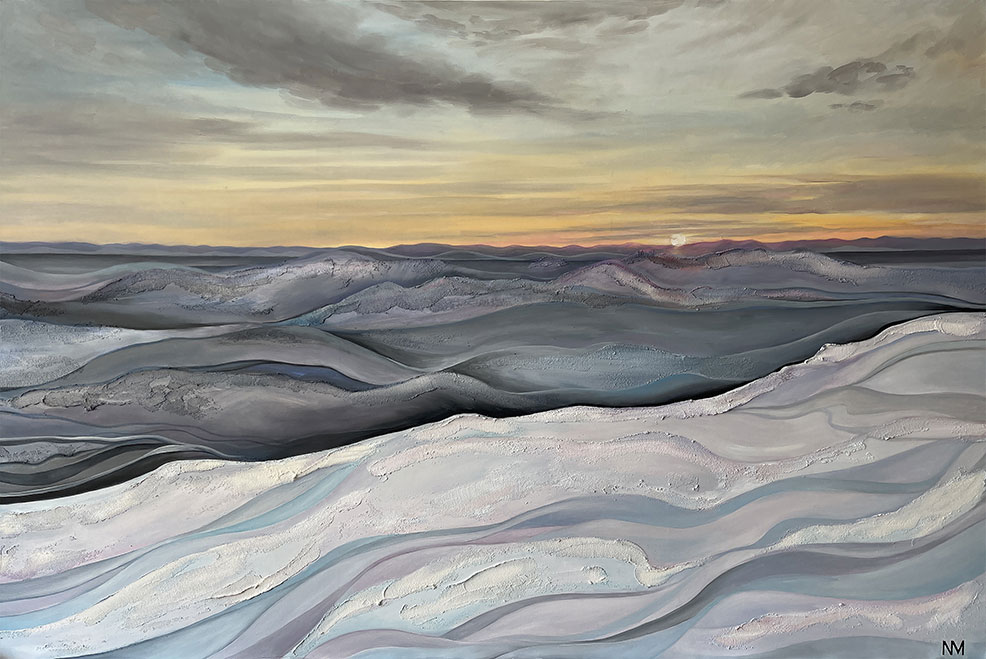 Let's talk about your activities as an artist. Many of your works are inspired by nature. What do you put into your abstract landscapes? What are they about?
I have always been inspired by nature and music. These two components of my balance are the most important for creating artistic canvases. A state of euphoria where you feel neither time nor hunger, a kind of Nirvana.

Currently, I focus on oil painting with graphic elements, and I also create abstract landscapes. The canvas has a texture, the color scheme can change from the darkest to the transparent, and the lines flow from the roughest to the thinnest, intertwining and creating the desired composition. I use large-sized canvases, which gives the works an additional visual effect.

I am working on a series of abstract works called "Lines". Why the lines? Everything that surrounds us in life is energy that is connected by invisible lines, people's thoughts, past generations, and future ones. These lines are the very energy of life on the subtle plane. The main theme for this series is the image of the Carpathian Mountains and human figures in my performance.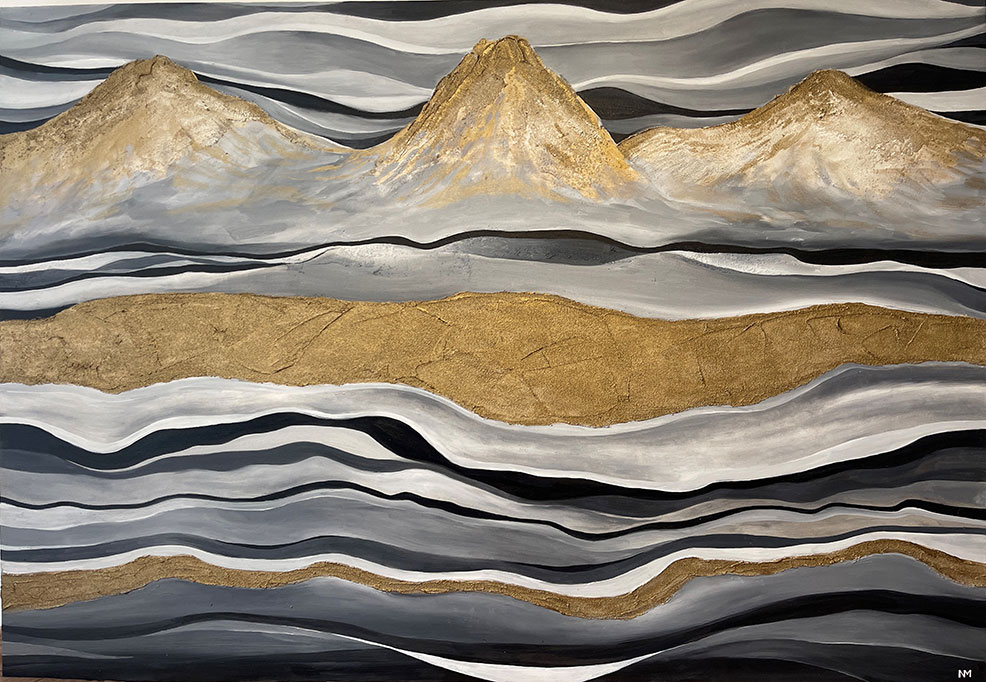 Golden mountains, 90×130 cm
Your work is very concise, mysterious, and interesting. The diptych "In amore" is especially impressive. Tell us what inspired you to create it and how you combined so many exciting textures? That's very beautiful!
My painting is full of sensuality and energy and conveys mood and state. I was inspired to create the diptych "In amore" by the feelings of people in love. What can be more beautiful than love? This is passion, a special look, body movements, harmony – all this can be traced on the canvases. The diptych symbolizes two halves of one whole – a man and a woman.

Many textured elements on the canvases add compositional completeness to the work, and with the help of leaf gilding, I emphasize the figures. Interestingly, starting with this diptych, the series of works "Lines" began. After finishing the series, I plan to have a personal exhibition in the gallery.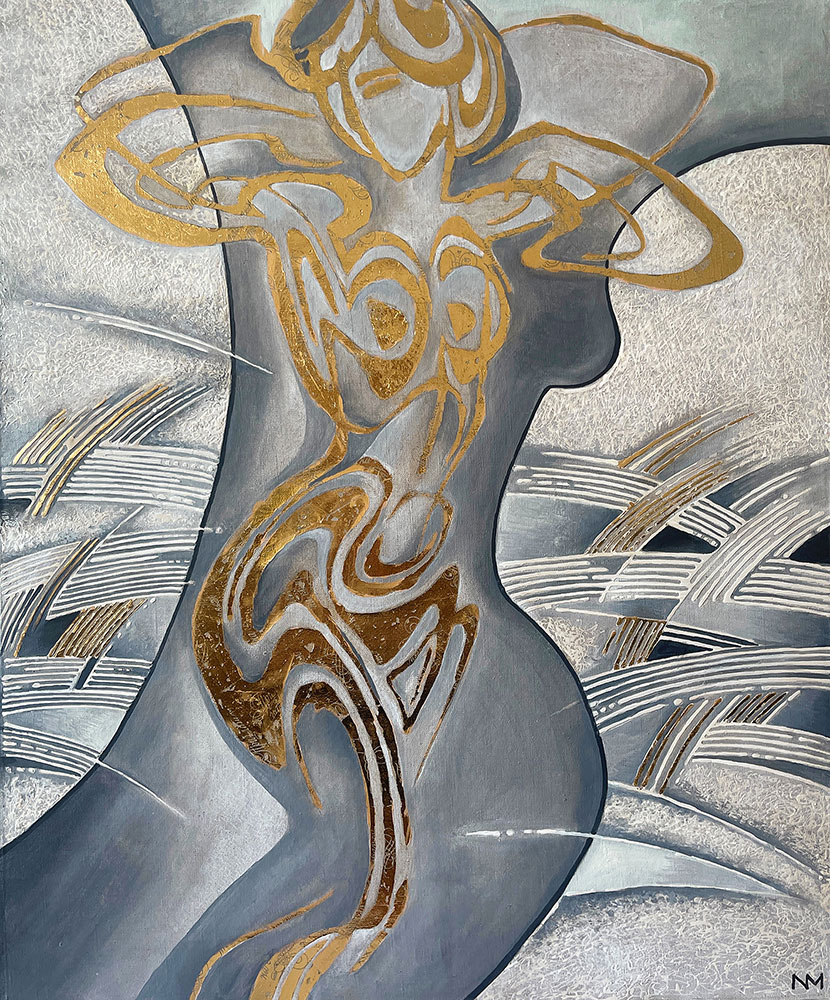 In what direction do you plan to work in the coming years, and what goals do you set for yourself?
There are many plans and goals. I know that Ukrainian art is strong in all aspects, both technically and spiritually, and will be competitive unequivocally. Both art critics and gallerists understand this.

Currently, new promising exhibition platforms for artists are being created, Ukrainian projects are appearing abroad, and I am also participating in some of them. With the beginning of the war, the whole world is talking about Ukraine, and art does not stand aside.

I plan to move forward as an artist, create new interesting projects in VR art, continue painting oil canvases, supplement Nerozna.com with creative canvases, and make new personal exhibitions in galleries in our country and abroad. I hope that Ukrainian art will reach a new level after the war.
Based on your experience working under Covid and war conditions, what advice would you give aspiring artists and those thinking about starting their own art project?
Creative people are the most interesting of all. They are full of ideas, projects, and interesting thoughts. It is pleasant to communicate with them. Dare to start their artistic project, novice artists need not only moral preparation but also additional communication or cooperation with gallerists, exhibition sites, etc.
Most creative people are very sensual. They can focus not on their creativity but on the creativity of another artist and create under his influence or be fixated on the academicism that is imposed in education.
The main thing is to hear, to be, to understand yourself, to have an idea of your purpose and goal. It is important not to despair when something does not work out, or not as you would like.
It is necessary to study and improve, to be flexible to circumstances, not to stand still, to try to be in constant motion. The most important thing is to remember your artistic self-identification and create.